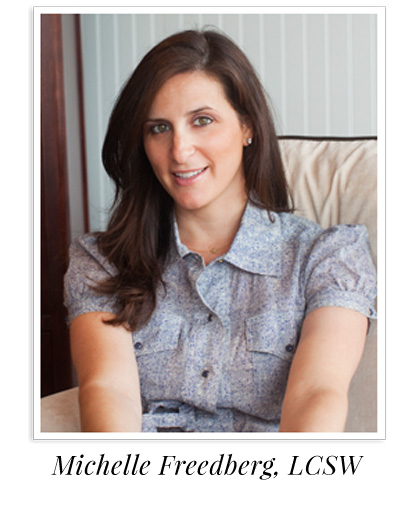 AREAS OF TREATMENT
Michelle Freedberg is a Licensed Clinical Social Worker, who treats women 25 and older who are struggling with anxiety, depression, work/life balance, self-confidence, procrastination and OCD as well as relationship , familial and parenting difficulties. Her specialty is maternal mental health, including perinatal and postpartum depression/anxiety/stress, fertility issues, as well as fetal loss. At certain times Michelle also runs new mother or postpartum groups with clients that would benefit from further healing.
In addition to individual treatment Michelle also treats couples and families that are struggling with communication dynamics or life stressors that are interfering with the functionality of the relationship. She has proven success exposing couples and families to effective and simple communication strategies that allow their family to operate at its most optimal.
APPROACH
Michelle has an interactive, compassionate and solution-focused approach that provides a safe, nonjudgmental environment for clients to work towards discovering their own happiness and best sense of self. With an individualized approach, she helps clients develop constructive tools for handling life's conflicts while also helping you to gain insight into thought patterns and behaviors that may be negatively impacting your wellbeing. Michelle uses a mix of cognitive behavioral, mind body awareness, insight oriented and narrative therapy techniques to help each of her clients build on their personal strengths to bring about the positive life changes they are in search of.
TRAINING
Michelle received her undergraduate degree from the University of Maryland in 1998 and her Master of Social Work from New York University in 2005. She has been operating the Women's Wellness Center since 2010. Prior to that she trained at New York Presbyterian's Westchester Psychiatric Hospital interning on the schizophrenic inpatient unit and as a clinician at Family Services outpatient clinic in Pelham, NY. Michelle has trained with pioneers in her field including Karen Kleiman, author and expert on maternal mental health. She is an active member of Postpartum Support International, an organization that promotes awareness, prevention and treatment for families dealing with mental health issues related to childbearing.